More Research Spotlights: << Prev | Next >>
"Control": Experimental Touchscreen Interfaces for iOS and Android
Charlie Roberts - PhD student, Media Arts and Technology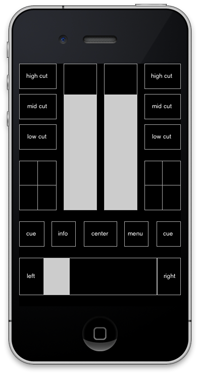 Sample DJ interface that
is included with Control
Control enables users to create their own touchscreen interfaces for controlling musical, artistic and virtual reality applications on devices running either the iOS or Android operating system. Although there are many existing applications for this purpose, Control was created with several specific features to promote experimental research in digital arts practice.
End-user scripting. Users can include complex behaviors in their interfaces that aren't possible with static sets of sliders and buttons. Almost any aspect of an interface can be manipulated using JavaScript.
Dynamic interface generation / modification via OSC (Open Sound Control) messages. Interfaces can be built up on-the-fly via network messages. This allows interfaces to be changed contextually as a composition progresses or a user moves through an art installation.
Devices running Control can be automatically discovered on a wireless network via the Bonjour/Zeroconf protocol. Once a client running Control is discovered, servers can "push" interfaces to the device so that users can immediately begin interacting with interactive artworks and performances.
Control has been downloaded over 20,000 times by users around the world who have been using it for a variety of tasks. As one example, the Pellegrini Space-Time Keyboard is a custom interface created by Roger Pellegrini. It allows users to transmit continuous pitchbend information as they move their fingers on the x-axis of the screen. In the video below Roger is using it to control a particularly massive wall of modular synths.
For more information, visit the Control website.