We Are Stardust, 2008
Installation, dimensions variable
2 screen projection, motorized infrared camera, custom software, 2 computers



"We Are Stardust" is a commissioned artwork by the Williamson Gallery at the Art Center College of Design, and the NASA Spitzer Science Center at the California Institute of Technology in Pasadena. The focus of the project is the Spitzer Space Telescope, a sun-orbiting, infrared observatory, managed by the Jet Propulsion Laboratory which began its mission in 2003, and officially terminated in 2009. The Spitzer Space Telescope is an infra-red temperature sensing instrument that is orbiting the sun, and trailing in the earth's orbit.

The installation was featured in the "Observe" exhibition at the Art Center College of Design (October 10, 2008 and January 11, 2009) and in the CODE LIVE exhibition at the Vancouver Olympics 2010.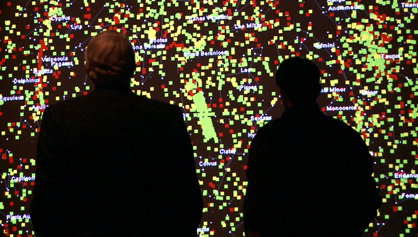 "We Are Stardust" is a two-screen projection installation that maps the sequence of the 36064 Spitzer sky observations from the start of its mission in 2003 to the summer of 2008. [click here for: 320x resolution video or 1280x720 resolution video of the installation at the Williamson Gallery, Art Center College of Design]

The installation consists of 2 projections on opposite walls of the exhibition space. The 'Observations image' positions all the sightings at their astronomical coordinates over a map of the universe. To cycle through the full sequence of the 36064 observations takes approximately 5 hours.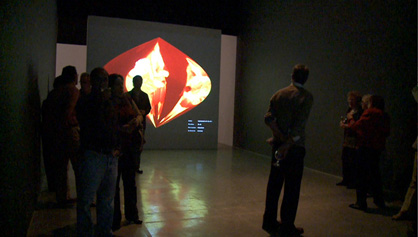 The 'InfraRed image' features the output of a motorized infrared camera in the gallery space that visually maps the thermal information it senses. This camera also replays the cooridnate sequences of the sightings but at a much slower rate and adjusted to the boundaries of the gallery space. [click here for video]