Speakers: Maja Kuzmanovic, Nick Gaffney.
Time: Monday, October 7, 2019 at 1pm.
Location: Elings Hall, room 1601.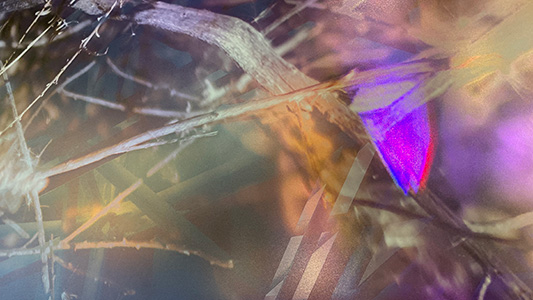 Abstract
FoAM is a network for speculative culture at the intersection of art, science, nature and everyday life. FoAM's co-founders Maja Kuzmanovic and Nik Gaffney discuss their interstitial techniques for living with uncertainty, combining experiential futures, generative technologies, labcraft, and the ephemeral tools of panpsychism.
As strategies of resistance against dystopian fear, FoAM experiments with futurecrafting and conviviality to re-enchant the present. We explore, among other things, animist approaches to interdependence, attunement and reciprocity, using a wide spectrum of transdisciplinary techniques — from mythological to ecological. When attuning to arcane forces of change — such as globalization, the atmosphere, interpersonal dynamics, or gut flora — FoAM's work combines pre-modern crafts of magic and ritual with Futures and technological arts. We evoke and invoke ways of viewing, being and acting in a world where the continuation of humanity is no longer certain. Dark arts for dark times, capable of transforming "the darkness of the tomb into the darkness of the womb". These techniques for re-animating fertile darkness inevitably begin with care. A careful and care full engagement with the world. Care as an antidote to nihilism, apathy or indifference. Care as the potion anima takes to remember itself as inseparable from animate matter.
Bio
FoAM is a network of transdisciplinary labs at the intersection of art, science, nature and everyday life. Guided by our motto "grow your own worlds" we cultivate an ecology of practices to re-imagine possible futures, create concrete situations in the present, encourage learning, incite discussions, and suggest alternatives.
Originally founded in Brussels in 2000, the FoAM network currently includes a range of organisational forms, each adapted to the local conditions. As with foam (the mass of bubbles), FoAM (the group) is a dynamic entity able to change shape and scale as required. We can appear as a business in the morning, a tightly knit family at lunchtime, a research facility in the afternoon, a loose bunch of philosophers in the evening or a dedicated designers collective by night. The lives and livelihoods of our members is as much part of FoAM's work as conducting a research project or organising events. We must therefore be malleable enough to accommodate changing needs and a range of lifestyles.
The FoAM studios are places designed to encourage open exchanges of ideas, techniques and experiences, hybrids between laboratories, ateliers and living rooms. We are organised as a distributed network concentrated in Europe and Australasia, with nodes (people, projects and partner organisations) spread across the thin habitable surface of the planet. Our distributed structure enables our studios to remain small and flexible; able to incubate experimental initiatives while the wider network can develop activities with broader scope.
FoAM's activities are as wide-ranging as the people involved. We conduct fieldwork, create artworlds, design and host participatory experiences as embodied responses to our research questions, aiming to engage all senses and encourage different perspectives. In the spirit of an open source culture, we publish our work and tend to a collaborative wiki. In our public events we aim to foster a sense of agency by inspiring and enabling participatory learning and co-creation. FoAM's unique approach to technological and performing arts, futurecrafting, science, education, experience design and process facilitation helps us to engage with people from all walks of life.
We share regular updates from the FoAM network through our blog, newsletter, flickr and twitter stream.
For more information about the MAT Seminar Series, go to: seminar.mat.ucsb.edu.