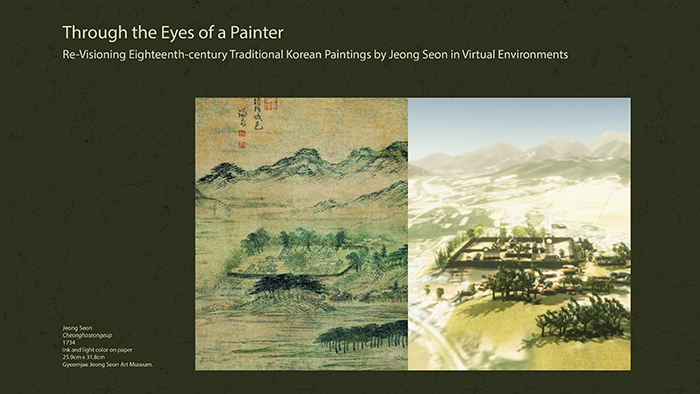 Abstract
Jeong Seon (1676–1759), was one of the most innovative painters in Korean history. More than 300 of his paintings and a great deal of material written about him has enabled Korean art historians to study his work carefully in the past 20 years. Unlike the conventional art style of the early Joseon period (ca. 1392–1592), his attempts to directly observe nature and capture it in his paintings spawned the so-called "true-view" art movement (jingyeong) that dominated in the late Joseon period (ca. 1700–1850). Despite its name, Jeong's style was not only the result of realistic observation but also a considerable shift away from traditional painting subjects, such as Mt. Wuyi, the center of Taoism and Buddhism. His appointment as the mayor of Cheongha in North Gyeongsang province in 1753 gave him opportunities to explore the famous scenic areas around the town. These paintings were collected in the Album of Gyeongsang Province (yeongnamchup).
Jeong's methods for simulating Korean landscapes have been the subject of much debate, but most of the discussion surrounding his work has been focused on the literature around him. For this reason, Jeong's unique perspective style has yet to be clearly defined. Thus, after reading Kay Black's exceptional paper on how to scientifically describe paint styles, I decided to define the true-view style.
This research presents clear answers about Jeong's extraordinary perspective skill based on computer graphical analysis. Jeong's paintings in Album of Gyeongsang Province were virtually reconstructed based on photographs and geographic data of the locations. The true-view landscape painting style utilized multiple distances, hemispheric distortion effect, morphological transitions, and constructing a linear narrative in painting. This dissertation explains how Jeong represented natural scenery using these techniques in his paintings. Finally, this research furthered the goal of our program to build bridges between art and science.