Oliver Ressler is an artist and filmmaker whose work has focused on global warming as a central theme ever since he first began to exhibit. One of his first solo exhibitions was "100 Years of Greenhouse Effect" at Salzburger Kunstverein (1996). Several exhibitions, films, installations, billboards and photographic works on the theme have followed since then.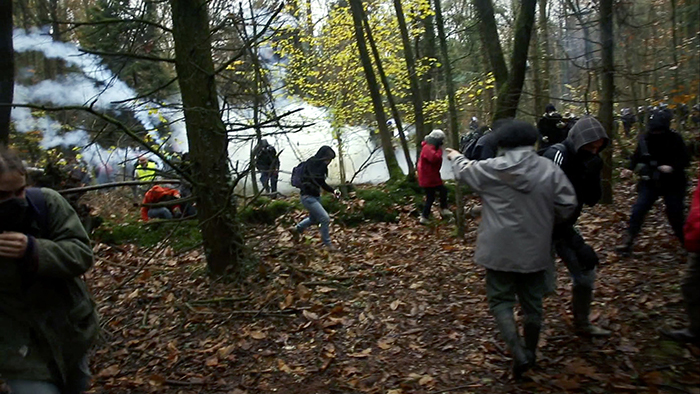 Oliver Ressler will talk about these works, putting a cycle of films – "Everything's coming together while everything's falling apart" (2016 – 2020) – at the center of the presentation. These films follow the climate justice movement in its struggles to dismantle an economic system heavily dependent on fossil fuels.
In the first film activists contest the UN Climate Change Conference in Paris in 2015, that proved the incapacity of governments to commit themselves to any binding agreement that would curtail global warming. The film on the Ende Gelände action in 2016 shifts the focus to a massive civil disobedience action at the Lusatia lignite coal fields (near Berlin), where 4,000 activists entered an open-cast mine. The film on the ZAD focuses on Europe's largest autonomous territory that emerged from the struggle against the new airport of Nantes in France. The film about Code Rood highlights a civil disobedience action in the port of Amsterdam in June 2017, Europe's second-largest coal port. The film on Limity jsme my leads us into the blockade of Bílina coal mine in Czech Republic and the detainment of the activists. The sixth film celebrates the Venice Climate Camp; 200 activists forced their way into the Venice Film Festival enclosure, where they occupied the red carpet for nine hours.
Three of the films:
Everything's coming together while everything's falling apart: Code Rood: https://youtu.be/skz3qVMEtHY.
Everything's coming together while everything's falling apart: The ZAD: https://youtu.be/Quehf2OMUbo.
Everything's coming together while everything's falling apart: COP21: https://youtu.be/_HWOXeP5pA8.
Bio
Oliver Ressler lives and works in Vienna/Austria. He produces installations, projects in public space, and films on issues such as economics, democracy, migration, the climate catastrophe, forms of resistance and social alternatives. He has had comprehensive solo exhibitions at Centro Andaluz de Arte Contemporaneo – CAAC, Seville; Wyspa Institute of Art, Gdansk; Lentos Kunstmuseum, Linz; MNAC – National Museum of Contemporary Art, Bucharest and SALT Galata, Istanbul. Ressler has participated in more than 400 group exhibitions, including Museo Reina Sofía, Madrid; Centre Pompidou, Paris; Van Abbe Museum, Eindhoven; MASSMoCA, North Adams, USA; the biennials in Prague (2005), Seville (2006), Moscow (2007), Taipei (2008), Lyon (2009), Venice (2013), Quebec (2014), Jeju (2017), Kyiv (2017), Gothenburg (2019), Stavanger (2019), and at Documenta 14, Kassel, 2017 (exhibition organized by EMST). Ressler currently works on "Barricading the Ice Sheets", a research project on the climate justice movement, funded by the Austrian Science Fund. He was the first prize winner of the Prix Thun for Art and Ethics Award in 2016.
www.instagram.com/oliver.ressler
For more information about the MAT Seminar Series, go to:
seminar.mat.ucsb.edu.