Once More, with Feeling: Feminist Frameworks for Biofeedback Music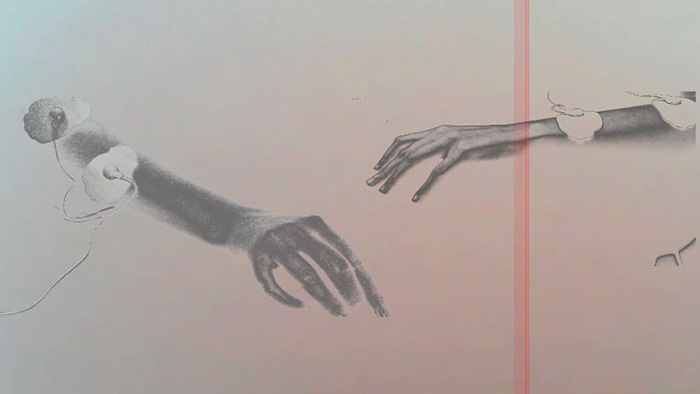 Presence (2020) by Erin Gee and Jen Kutler.
Abstract
Since the 1960s, composers have used technology to interrupt, amplify, and distort the relationship between music and its psychosomatic perception, seemingly dissolving Cartesian dualisms between mind/body while ushering in a new era of musical experience. At the borders of "new music" and "electronic music," biofeedback music is often articulated through futurist, cybernetic, and cyborg theory. I argue that the revolutionary promise of biofeedback music is compromised by its situatedness in traditional systems of value typical to European art music, in which patriarchal, humanist, and colonial bias quietly dominate the technological imaginary through metaphor.
In this presentation I contextualize biofeedback music history through the work of feminist musicologists and art historians, and also share examples of my own work in affective biofeedback: the development of low-cost and accessible open-source technologies, as well as the development of performance methods influenced by hypnosis, ASMR, and method acting as applied to choral music, robotic instruments, and VR interfaces.
Articulating biofeedback composition through principles of emotional reproduction and emotional labor, I emphasize wetware technologies (body hacking, social connection, empathetic and affective indeterminacy, and psychosomatic performance practice) as crucial compliments to biofeedback hardware and software.
Bio
Canadian performance artist and composer Erin Gee ( TIO'TIA:KE – MONTREAL) takes inspiration from her experience as a vocalist and applies it to poetic and sensorial technologies, likening the vibration of vocal folds to electricity and data across systems, or vibrations across matter. Gee is a DIY expert in affective biofeedback, highlighting concepts like emotional labor, emotional measurement, emotional performance, and emotional reproduction in her work that spans artificial intelligence technology, vocal and electronic music, VR, networked performance, and robotics. Gee's work has been featured in museums, new media art festivals, and music concert halls alike. She is currently a Social Studies and Humanities Research Council Canada Graduate Scholar at Université de Montréal, where she researches feminist methods for biofeedback music.
Images Credits: Portrait by Elody Libe (2019), Presence (2020) by Erin Gee and Jen Kutler. Networked biofeedback music performance for affective biosensors and touch-stimulator devices.
For more information about the MAT Seminar Series, go to:
seminar.mat.ucsb.edu.