Generating Sound and Organizing Time with Gen~
Abstract
The gen~ environment for Max/MSP lets us work on sonic algorithms down to sample and subsample levels. Written a decade ago during my doctoral research at MAT, UCSB, it has become a widely used platform for sonic experimentation, interactive arts, product design, and music making by artists such as Autechre, Robert Henke, and Jim O'Rourke. At its heart is the capacity to write whole algorithms that are processed one sample at a time, allowing unique access to filter, oscillator and other micro-level synthesis designs, and where each edit made while patching seamlessly regenerates optimized machine code under the hood (and which can be exported for use elsewhere). In this talk I will introduce the gen~ environment, including how and why it was developed, but also where and how it can be applied and what it has inspired. This will draw material from a new book about sonic thinking with signals and algorithmic patterns, with a gamut of synthesis and audio processing examples demystified through patching with gen~.
Bio
Graham Wakefield is an Associate Professor and Canada Research Chair in the department of Computational Arts at York University, where he leads the Alice Lab, dedicated to computational art practice and software development in mixed/hybrid reality. His ongoing research practice applies a deep commitment to the open-endedness of computation—as an art material—as expressed both in new software for artists and musicians (such as the gen~ environment for Max/MSP), as well as immersive artworks of biologically-inspired systems (working with Haru Ji as Artificial Nature). These installations have been exhibited in many international venues and events, including La Gaîté Lyrique/Paris and ZKM/Germany, and his research has been published in the Computer Music Journal, IEEE Computer Graphics & Applications, the International Journal of Human-Computer Studies, Leonardo, ICMC, NIME, SIGGRRAPH, ISEA, EvoWorkshops, and many more.
Graham Wakefield's new book (October 2022):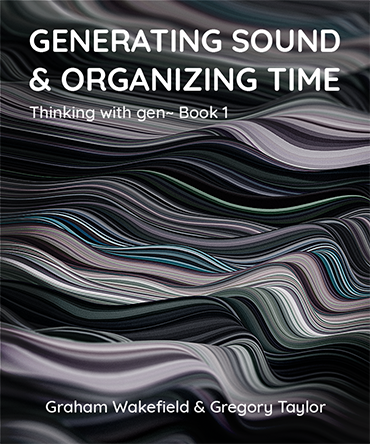 https://cycling74.com/books/go
For more information about the MAT Seminar Series, go to:
seminar.mat.ucsb.edu.