Speakers: Matthew Biederman & Pierce Warnecke.
Monday, April 6th, 2020 at 1pm via Zoom.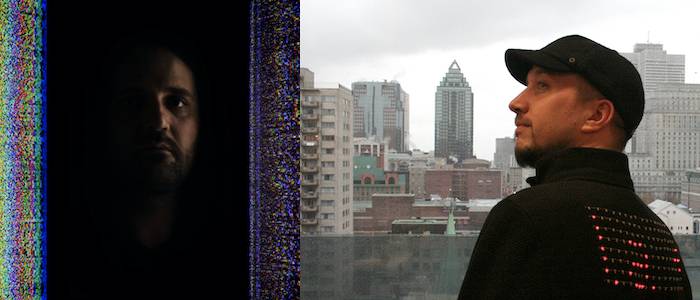 Abstract
The lecture will center on the collaborative Audio-Visual practice of Pierce Warnecke and Matthew Biederman covering their generative installation and performative works. By giving equal focus to both sound and video, their work puts the theme of each piece at the forefront. Through a review of their history working together from different continents, the talk will explore conceptual underpinnings, technical overviews and relationships with contemporary music and visual culture.
Matthew Biederman
Matthew Biederman has been performing, installing and exhibiting works, which explore themes of perception, media saturation, and data systems from a multiplicity of perspectives since the mid nineties. Biederman was the recipient of the Bay Area Artist Award in Video by New Langton Arts in 1999, First Place in the Visual Arts category of Slovenia's Break21 festival. He has served as artist-in-residence at a variety of institutions and institutes, including the Center for Experimental Television on numerous occasions, CMU's CREATE lab, the Wave Farm and many more.
He has since co-founded the Arctic Perspective Initiative, with Marko Peljhan, in 2007, a non-profit, international group of individuals and organizations, whose goal is to promote the creation of open authoring, communications and dissemination infrastructures for the circumpolar region. While working at the intersection of art, science and community, API also has been included in group exhibitions and biennales worldwide, as well as several European solo exhibitions, one of which was named as a 'Top 10' of 2010 by ARTFORUM magazine (Arctic Perspectives, HMKV Dortmund).
His works have been exhibited in the US, South America, Europe and Japan, in a variety of festivals and venues such as 7 ATA Festival Internacional (Lima), the 11th Lyon Bienniale, the 2011 Quebec Trienniale, 2014 Montreal Bienniale (Musee des Arts Contemporain), Bienniale of Digital Art (BIAN, Montreal), Artissima (Turin, IT), Moscow Biennale, Art and Alternative Visions (Tokyo) and Sonic Acts (NASA, Amsterdam) among others. As a film and video maker, his works have been included in the FILE festival (Sao Paulo), New Forms Festival (Vancouver), the Edinburgh Fringe Festival, Paris/Berlin International Meetings, and the Chicago Underground Film Festival. His public works have been shown at the ZeroOne2006 Festival (San Jose US), the SCAPE Biennial in New Zealand as well as producing custom commissions. He has collaborated with musicians as a visual artist since 1999, performing at the historic Theatre du Chatelet in Paris, as well as Ars Electronica, AV Festival, Elektra, Mutek, Futuresonic, FILE and many, many more. His works are included in public, corporate and private collections in North America.
Biederman is currently represented by Art45 and lives and works in Montreal, Quebec.
Pierce Warnecke
Pierce Warnecke is sound and video artist from the US, based in Europe for over a decade. He works equally in the sonic and visual domains via performances, installations and compositions. In addition to his solo works he collaborates with Frank Bretschneider, Matthew Biederman Keith Fullerton Whitman and more. He has received supporting grants from Germany, Canada, the European Union and France. He currently works as a professor at Berklee Valencia, Spain. Pierce has presented his works in many international festivals and spaces, such as MUTEK, ZKM, Sonic Acts, KW Institut Berlin, CTM Festival, Elektra, NEMO and more. He has released music on raster-media and Room40 and is represented by CTM's DISK Agency.
For more information about the MAT Seminar Series, go to: seminar.mat.ucsb.edu.