Speaker: Daria Parkhomenko
Monday, January 18th, 2021 at 9:30am via Zoom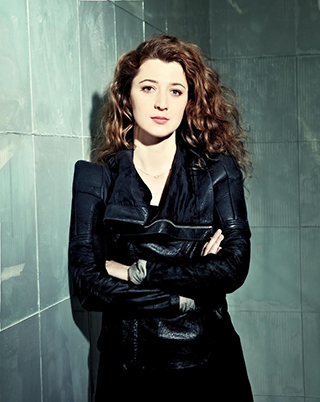 Abstract
Since the early 1960's Russia has its own tradition of scientific-artistic synthesis: in the late Soviet Union technological aesthetics became a safe haven for artists working with abstractions and the heritage of avant-garde. The "Prometei" Center, founded by Bulat Galeev, actively worked in Kazan, kinetic artists (Viacheslav Koleichuk) created their pieces in Moscow and Leningrad, and numerous buildings inspired by bionics, space exploration and modern technologies appeared throughout all over the USSR. Now, in the era of a more self-critical art, artists might take a different view of technology. But the overall interest in science and collaborative work of people from different intellectual cultures is still strong. Russian science-art practitioners are not numerous but distinctive and internationally active. They include ::vtol::, Dmitrii Kawarga, Helena Nikonole from Moscow, "Where the Dogs Run" from Yekaterinburg and Egor Kraft from St. Petersburg.
In 2008 the first independent nonprofit science-art research, exhibition and production centre has been created by the author of the talk. Laboratoria Art&Science Foundation specializes on building common ground between artists and scientific collectives where technological artworks are created through the interaction of diverse intellectual cultures on equal terms. Over more than a decade of practical experience, Laboratoria has developed a methodology for the interaction of four main participants: artists, scientists, engineers and curators in order to maintain a mutual flow of ideas. Three main methods of this methodology are Immersion, Transposition and Third-order Observation. These methods will be demonstrated on several recent examples of technological artworks produced by Laboratoria in collaboration with leading neuroscientists and deep learning researchers, resulted in the exhibition "Daemons in the Machine" (ММОМА, Moscow, 2018) devoted to re-thinking of AI technologies and its possible interplay with society and culture.
Bio
Daria Parkhomenko is the founding director and curator of LABORATORIA Art&Science Foundation, founded in 2008 as the first exhibition and research centre in Russia focused on the platforms of interdisciplinary interaction between contemporary art and science.
Parkhomenko graduated from Lomonosov Moscow State University in sociology and received her MA in art and cultural management at Moscow School of Social and Economic Sciences. She teaches Methodology and Practice of Science-Art at the Higher British School of Design (Moscow), and at the School of Contemporary Art MMOMA (Moscow), and at Saint Petersburg National Research University of Information, Technologies, Mechanics and Optics (ITMO, St. Petersburg). Collaborating with these and other institutions, she has organized numerous conferences, symposiums and talks on the topic of technological art and its prospects. She has also contributed as an author to a number of publications both in Russia and abroad and foreign editions, including: Open Codes, ZKM, 2019; The Art Magazine, Moscow, 2013; Digital art conservation, ZKM, Germany, 2012; Synergia, Arts Santa Monica, Barcellona, 2012; CyberArts 2011, Ars Electronica, 2011 ect.
Parkhomenko's scientific interests, as reflected in her curatorial projects, include quantum physics, AI, neuroscience, alternative energy, climate change, and space. She has curated more than 30 exhibitions, among them: "Daemons in the Machine" group exh. (ММОМА, Moscow, 2018), "Quantum Entanglement 2.0" group exh. (Arsenal, Nizhny Novgorod, 2016), "Quantum Entanglement" (with Tom Higham, FutureEverything) group exh. (LABORATORIA, Moscow, 2015), "Superconduction" group exh. (Riga, 2015), "Ice Laboratory", group exh. (LABORATORIA, Moscow, 2013), International symposium "Brainstorms. "The Artist in the Context of Neuroscience" (Polytechnic Museum, Moscow, 2012), "Neuroscientific experiment 1. Measuring the Magic of Mutual Gaze", Marina Abramovic (Garage, Moscow, 2011), "Infusion", group exh. (LABORATORIA, Moscow, 2011), "Tele-Present Wind", David Bowen (LABORATORIA, 2010).
She served as a jury member at Ars Electronica Festival (Linz, Austria) in Hybrid art nomination (2011), a laureate of the Public Prize "Cariatida" (2014) and a member of the expert board of the All-Russian competition for the award in the field of contemporary visual art "Innovation" (2015, 2016).
For more information about the MAT Seminar Series, go to: seminar.mat.ucsb.edu.