Experimental Visualization Lab
Professor George Legrady
Room 2611, Elings Hall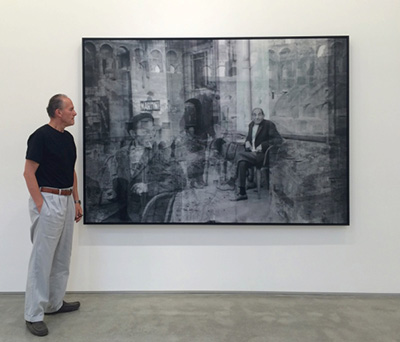 The Experimental Visualization Lab (ExpVisLab) is directed by professor George Legrady, and is one of five dedicated research labs in the Media Arts & Technology program at UCSB. The lab focuses on creative explorations in the fields of data visualization, visual language, machine vision, computational photography, interactive digital installations and related directions addressing the impact of computation on visualization. The experiments, projects and courses from the lab contribute to the arts-engineering/scientific community in the following way: 1) Explore new forms of visualizations through implementation of advanced knowledge of visual language, image syntax and semiotics through computation. 2) Rapid testing of concepts through visual/spatial/interactive means. 3) Address image-based research that is on the fringe of engineering/science research which may contribute to enhancing engineering/scientific research and discourse.
Facilities include a 1100 sq. ft lab space with large work desks, 4 projectors, 5 large display screens, and several powerful desktop computers and mini computers.
The output of our work crosses multiple disciplines and institutional contexts at the international level. These include Engineering (ACM, IEEE), Arts-Engineering (Siggraph), electronic music interface (NIME), academic conferences (CAA, ISEA), academic museums (Beall/UC Irvine), Fine Arts museums (SBMA, SFMoMA), media festivals (Fotofest), Fine Arts galleries (Nadimi Gallery/Toronto, Nature Morte/Berlin, Edward Cella Gallery/LA), public facilities (Seattle Central Library), corporate buildings (CEB, Arlington) and a related range of publications in diverse conference and arts-engineering venues.
The lab has been supported by the Robert W. Deutsch Foundation, National Science Foundation, the Center for Nanotechnology in Society, the UCSB Faculty Senate, the UCIRA (University of California Institute for Research in the Arts) and others.
Selected Student Works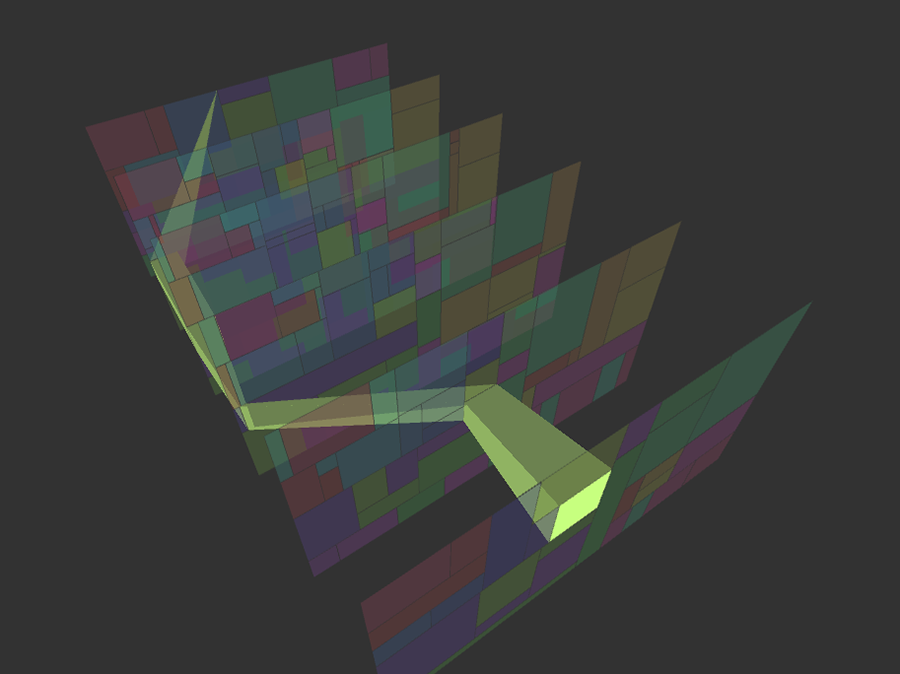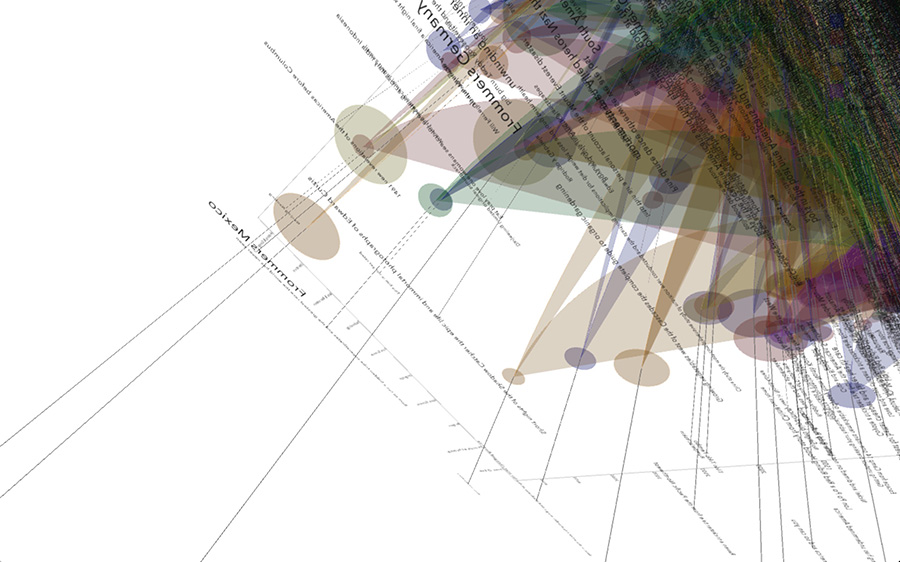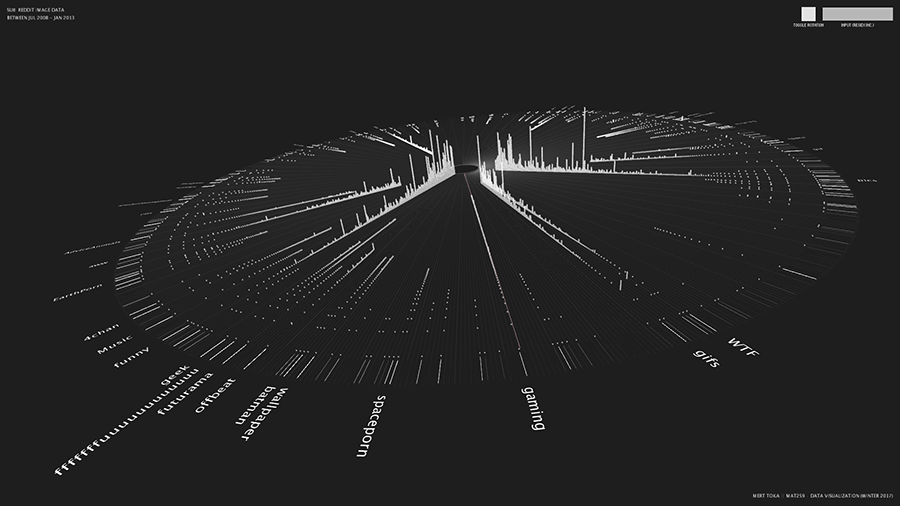 Selected Projects
Anamorphic Fluid, 2015. George Legrady, Donghao Ren, Jieliang Luo.
Anamorphic Fluid is a dynamically active animation featured on screens or projected large-scale in a gallery or architectural space on straight or semi-circular walls. The animation features a collection of images suspended and floating in a virtual three-dimensional space in a state of continuous slow motion until disrupted by the presence and gestures of spectators.
SwarmVision, 2013. George Legrady, Marco Pinter, Danny Bazo.
Initiated by research in autonomous swarm robotic camera behavior, SwarmVision is an installation consisting of multiple Pan-Tilt-Zoom cameras on rails positioned above spectators in an exhibition space, where each camera behaves autonomously based on selected rules of computer vision that simulate aspects of how human vision functions. Each of the cameras are programmed to detect visual information of interest based on separate algorithms, and each negotiates with the other two, influencing what subject matter to study in a collective way.
Viewers can perceive both individual robotic camera behaviors (microcosmic) and their relationships to each other (macrocosmic) on 2 large screens. Visual fragments of spectators who enter the viewing space populate the images, leaving an imprint of their presence that become erased over time as the stream of new images replace the older ones.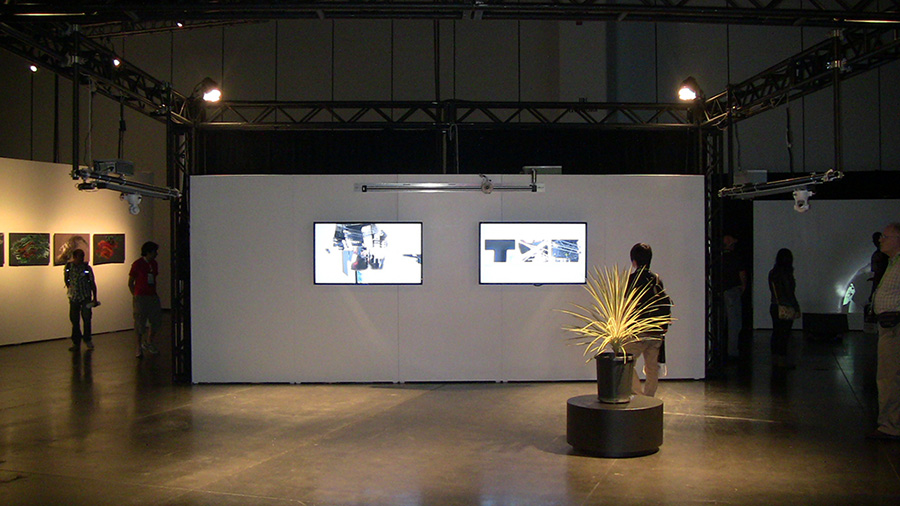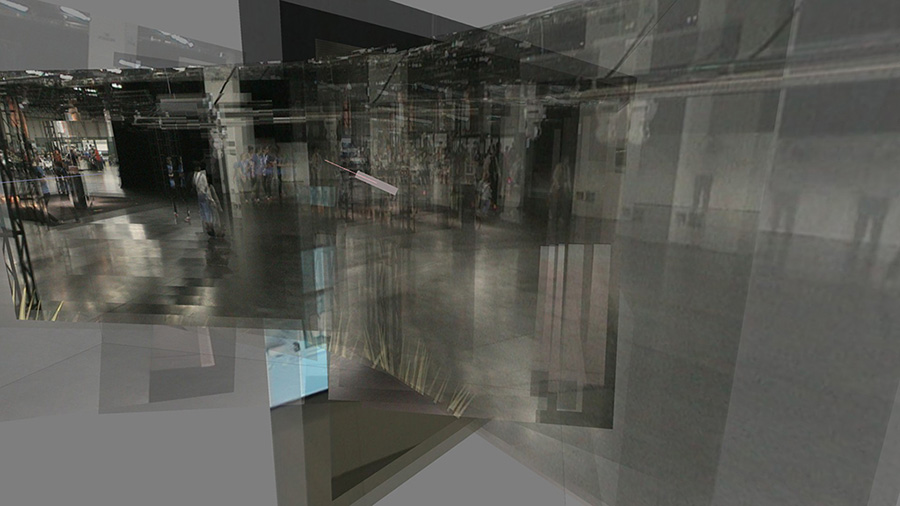 Class Photo